California Pregnancy Disability Leave Law ("PDLL")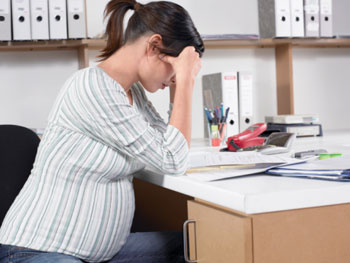 If an employee is "disabled by pregnancy, childbirth, or related medical conditions," the employee is entitled under PDLL "to take a leave for a reasonable period of time not to exceed four months and thereafter return to work." Cal Gov Code § 12945(a).A "related medical condition" is defined as "any medically recognized physical or mental condition that is related to pregnancy or childbirth." 2 CCR 7291.2.
Pregnancy disability under the PDLL runs concurrently with leave taken under the FMLA. 2 Cal. C. Regs '7291.12(a). However, PDLL leave does not run concurrently with a CFRA leave entitlement for an employee's own serious health condition. 2 Cal. C. Regs '7291.13(a), 7297.6(a), (c), (d). CFRA and PDLL are two separate and distinct rights that employees have under California law. 2 Cal. C. Regs '7291.13(a), 7297.6(a), (c), (d).
Following a pregnancy leave under PDLL, an employee will still have the right to take a CFRA leave of up to 12 weeks "for reason of the birth of her child, if the child has been born by this date" [provided that the entire CFRA leave was not taken prior to the PDLL leave]. 2 Cal. C. Regs '7291.13(c). Thus, if the maximum amount of both types of leave is taken, the maximum total leave entitlement will be 4 months plus 12 workweeks of CFRA leave. 2 Cal. C. Regs '7291.13(d). Therefore, in California, the maximum entitlement of leave for a pregnant individual is "four months" plus 12 workweeks of CFRA leave (e.g. generally 7 months). If an employee works five eight-hour days per week, Afour months means 88 working days based on an average of 22 working days per month. See 2 Cal. C. Regs. '7291.7(a)(1).
If an employer grants an employee pregnancy disability leave or transfer, "the employer shall guarantee to reinstate the employee to the same position, or to a comparable position." If the employee requests the guarantee in writing, the employer must provide the writing to the employee. It is unlawful for an employer to refuse to reinstate the employee, unless an exception applies. 2 CCR 7291.9.
The employee does not need to take the four months of PDLL leave all at once or in one block; the employee's "leave may be taken intermittently or on a reduced work schedule when medically advisable, as determined by the health care provider of the employee." 2 CCR 7291.7. For example the employee can use the leave to work only three or four days a week and the days the employee does not work will be subtracted from the overall four month maximum allowed.
An employer must also provide "reasonable accommodation for an employee for conditions related to pregnancy, childbirth, or related medical conditions, if she so requests, with the advice of her health care provider." 2 CCR 7291.6. If an employee wishes to request PDLL leave or transfer from her employer, the employee must give either written or verbal notice "sufficient to make the employer aware that the employee needs a pregnancy disability leave or transfer, and the anticipated timing and duration of the leave or transfer." 2 CCR 7291.10(a).
Contact Us
If you have not been granted a PDLL leave, or you have experienced negative treatment or termination from having taken a PDLL leave at your workplace, contact the experienced PDLL leave lawyers at Kokozian Law Firm, APC. 323-857-5900. Ask about our free initial consultation.