Pregnancy Termination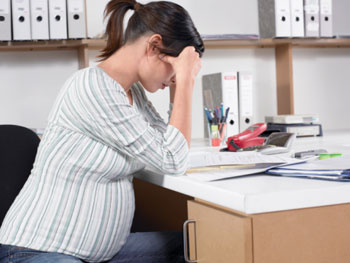 California Pregnancy Disability Leave Law ("PDLL")
If an employee is "disabled by pregnancy, childbirth, or related medical conditions," the employee is entitled under PDLL "to take a leave for a reasonable period of time not to exceed four months and thereafter return to work." Cal Gov Code § 12945(a). A "related medical condition" is defined as "any medically recognized physical or mental condition that is related to pregnancy or childbirth..." 2 CCR 7291.2.
If an employer grants an employee pregnancy disability leave or transfer, "the employer shall guarantee to reinstate the employee to the same position, or to a comparable position." If the employee requests the guarantee in writing, the employer must provide the writing to the employee. It is unlawful for an employer to refuse to reinstate the employee, unless an exception applies. 2 CCR 7291.9.
The employee does need to take the four months leave all at one or in one block, the employee's "leave may be taken intermittently or on a reduced work schedule when medically advisable, as determined by the health care provider of the employee." 2 CCR 7291.7. For example the employee can use the leave to work only three or four days a week and the days the employee does not work will be subtracted from the overall four month maximum allowed.
An employer must also provide "reasonable accommodation for an employee for conditions related to pregnancy, childbirth, or related medical conditions, if she so requests, with the advice of her health care provider." 2 CCR 7291.6.
If an employee wishes to request PDLL leave or transfer from her employer, the employee must give either written or verbal notice "sufficient to make the employer aware that the employee needs a pregnancy disability leave or transfer, and the anticipated timing and duration of the leave or transfer." 2 CCR 7291.10(a).
California Family Rights Act ("CFRA") / Family and Medical Leave Act ("FMLA"):
An employee under CFRA / FMLA is entitled to "a total of 12 workweeks of leave during any 12-month period" for one or more of the following reasons:
Birth of a son or daughter of the employee, in order to care for the son or daughter.
To care for a spouse, son, daughter, or parent of the employee if the spouse, son, daughter, or parent has a serious health condition. 29 USCS § 2612.
"To care for" includes physical and psychological care. 29 CFR 825.124(a). Examples include situations where the family member is:

"unable to care for his or her own basic medical, hygienic, or nutritional needs or safety, or is unable to transport himself or herself to the doctor,"
"providing psychological comfort and reassurance which would be beneficial to a child, spouse or parent with a serious health condition who is receiving inpatient or home care,"
and when employee needs to be a "substitute for others who normally care for the family member or covered service member, or to make arrangements for changes in care, such as transfer to a nursing home." 29 CFR 825.124.

The employee is unable to perform the functions of their job because of a serious health condition. 29 USCS § 2612(a)(1)(A)-(D). Serious health condition under FMLA is defined as "an illness, injury, impairment, or physical or mental condition that involves inpatient care in a hospital, hospice, or residential medical care facility, (staying overnight or longer at a hospital, hospice or residential medical care facility) or continuing treatment by a health care provider." 29 USCS § 2611(11). Examples include:

A mother is entitled to leave for incapacity (being unable to work, attend school or perform other regular daily activity) because of her pregnancy, for prenatal care, or for a serious health condition after the birth of the child; (29 CFR 825.120)
A husband is entitled to leave to care for his pregnant spouse if she is incapacitated or if the leave is needed to care for her during her prenatal care, or if it is needed to care for his pregnant spouse after the birth of the child if the spouse has a serious health condition; (29 CFR 825.120)
Under FMLA an employee is not required to take their leave of absence all at one time. The employee is allowed to take the leave "intermittently or on a reduced leave schedule. Intermittent leave is leave taken "in separate blocks of time due to a single qualifying reason." A reduced leave schedule is "a leave schedule that reduces an employee's usual number of working hours per workweek, or hours per workday. A reduced leave schedule is a change in the employee's schedule for a period of time, normally from full-time to part-time." 29 CFR 825.202(a).
For an employee to receive leave covered under FMLA from his or her employer, the employee must give the employer notice, either verbal or written. 29 CFR 825.302. The employee's notice must let the employee know the reason for the leave that is covered by FMLA (serious health condition; birth of child or adoption or foster care of child; taking care of spouse, child, or parent with serious health condition.; or emergency because child, spouse, or parent is on active duty with Armed Forces.). 29 CFR 825.302. The notice must also contain the timing and duration the employee anticipates the leave to take up. 29 CFR 825.302.
When an employee comes back from FMLA leave they are entitled to be reinstated by the employer to their same position or an equivalent position. 29 USCS § 2614. The equivalent position is to have "equivalent employment benefits, pay, and other terms and conditions of employment." 29 USCS § 2614.
Pregnancy Discrimination Act (Title VII) ("PDA")
Prohibits wrongful termination on the basis of "pregnancy, childbirth, or related medical conditions." 42 U.S.C.S. § 2000(e)(k). "[W]omen affected by pregnancy, childbirth, or related medical conditions shall be treated the same for all employment-related purposes, including receipt of benefits under fringe benefit programs, as other persons not so affected but similar in their ability or inability to work." 42 U.S.C.S. § 2000(e)(k). Written or unwritten employment policies and practices involving matters "such as the commencement and duration of leave, the availability of extensions, the accrual of seniority and other benefits and privileges, reinstatement, and payment under any health or disability insurance or sick leave plan, formal or informal" shall be applied on the same terms and condition to employees with disabilities due to pregnancy, childbirth or related medical conditions as are applied to employees with other disabilities. 29 CFR 1604.10.
"As a general matter, a woman's medical condition rendering her unable to become pregnant naturally is a medical condition related to pregnancy and childbirth for purposes of the Pregnancy Discrimination Act." Pacourek v. Inland Steel Co., (1994) 858 F. Supp. 1393, 1403.
Possible Pregnancy Discrimination, Termination Scenarios At Work
Employees who become pregnant are protected from being discriminated against in the workplace by a network of federal and state laws. Nonetheless, employers whose workers become pregnant frequently behave as if these employees have no rights related to their pregnancy, or try to find a way to get around these laws. Below are some scenarios in which pregnant employees are discriminated against, harassed, and ultimately terminated due to pregnancy. Each person's experience is unique. If you find yourself in a situation similar to any of the ones described below, or any other situation where becoming pregnant has led to discrimination or termination, contact the Los Angeles employee lawyers at our office.
Harassment and Write-Ups by Employer
An employee discovers from a routine checkup that she is pregnant. She informs her boss a day or two after she finds out. In the beginning the management does not seem to object or complain about the pregnancy; the employee is simply asked to keep them informed regarding when she would need to take a leave of absence, and the boss assures her verbally that she will have her position upon her return.
However, soon after the disclosure, she is told that her pregnancy will cause her to be unable to do the job, even though there are no physical signs of the pregnancy, and furthermore no signs yet of the pregnancy causing any physical difficulty for the employee. Yet the manager may begin to ask intrusive questions about the pregnancy, or become more critical of her work performance than before. The manager may deliberately find ways to make the employee feel uncomfortable by asking personal questions about what's happening to her body due to the pregnancy. The manager may set the employee up with extraordinary challenges that none of her coworkers have to face and write her up when she is unable to perform according to this new standard. The manager may require the employee to work overtime or on one of her days off, fully knowing that one of the days off is when the employee is scheduled to have a prenatal doctor's visit. The employer may finally terminate her, using the write-ups and something general like her "attitude" as the reason for firing her. If you feel you are or were in this situation, contact our office.
Failure of Employer to Provide Reasonable Accommodations for Restrictions
In another common scenario, an employee who performs a mix of tasks of different levels of physical difficulty at a warehouse, assembly line or factory, such as operating heavy machinery, quality control, inventory, packing, labeling, inspection, and moving articles from an assembly line to a pallet, notifies her employer that she has become pregnant. For a while, she continues to work at that same position, performing the same tasks as before until her doctor advises her late in her term that she must not exert herself continuously day-to-day in the same manner. Her doctor provides a note to give the employer laying out a set of medically necessary restrictions against repeated bending and lifting a certain number of pounds. With these restrictions, she remains able to perform many of her tasks; and she would be able to return to full capacity as an employee upon returning from maternity leave.
In response to this request for light duty work, the shift supervisor or manager may retaliate against her by at first refusing to limit her job duties or by sending her home, saying that there is no position available for someone who is unable work with the work restrictions put on her by her doctor.
The employee knows this is not the case. All she would need would be some limited assistance on the floor with the lifting tasks, which take up a small portion of her workday. Each day she would call Human Resources or the shift supervisor or management and ask to be returned to the schedule, and each day she would be told that there is no work available for someone with her work restrictions. Several days later she receives an envelope in the mail or by overnight delivery with a final paycheck and a letter informing her that her position has been eliminated and she is therefore terminated. She calls the employer for a further explanation and is told the same thing: Her "position has been eliminated." This makes no sense, as the employer has been very busy and is in the process of hiring more people. If you are having or had similar experiences, contact our office.
Termination via Staffing Agency
A large number of employees are working under an employer/agency employment arrangement. These arrangements are called temporary or sometimes "temp to hire." They work at a plant or a warehouse, but their employment has been arranged by and they are receiving payment through a staffing agency. The company enjoys the flexibility of bringing contingency employees in as needed and releasing them when business slows down or in a low point in a seasonal business cycle.
This arrangement, some companies think, can protect them from liability when they wish to terminate an employee who becomes pregnant. An employee who brings a doctor's note confirming her pregnancy to the company may be given the run-around between the company and the agency regarding whether she will be permitted to continue to work with any of the restrictions that her doctor may require in the future. Ultimately, the company, through the agency, may notify her that she is no longer needed due to a work slowdown.
However, because of the timing, the employee might rightfully suspect that the termination is due to her disclosure that she is pregnant. Yet she may feel that, since she continues to have an arrangement with the staffing agency to find work for her even after being terminated from the position with the company where she was working, she has not actually been terminated by the agency. She may feel that she was merely released from a "temporary" position by a temporary employer who is arguing that she is no longer needed at the position. If you suspect that you have been terminated from a job due to pregnancy, contact our office for a consultation. We will review the details of your situation.
Pregnancy Harassment & Termination by Employer
An employee who discloses to her employer that she has become pregnant may feel that she is being harassed by her supervisors who see this news as an opportunity to intrude on the employee's personal and private business. They may pry into the details about how she became pregnant, who the father is, what her marital situation is, and what her plans are for raising the child. If the employee does not answer any of these prying questions, or give them the answers they want, her coworkers, supervisors, and managers may begin to spread rumors about her being yet another promiscuous young woman with bad judgment having a child out of wedlock who doesn't even know who the father is – even if that's not the case. They may even imply or state outright that this is a "defect" in her character, and that this supposed lack of morality is incompatible with the conservative, family-oriented character the company wants to project to the public.
This attitude by management can be passed down to the other employees, who may feel like it is now open season to give her unwanted attention. They may think they have implicit permission by the employer to participation in the spreading of rumors and general denigration of her character. They may even go as far as stating that one or the other male coworker is the father of the baby.
The employer may also see the pregnancy as creating an open forum for public comment about the changes her body is going through. The employee may hear comments from coworkers or even supervisors about how "fat" she is becoming and how her breasts are growing. Some coworkers, and even supervisors and managers, may feel that they can take the liberty of touching her belly whenever they want without asking for permission.
The comments, allegations, insults, and touching while she is just trying to do her job would understandably make her feel very uncomfortable. But if she complains about this behavior, her complaints may be brushed off and the others' behavior explained away as the actions of coworkers who are simply "concerned" about her, who see her as "family." If the comments and touching persist, and she continues to complain, the management may change its feelings toward her as an employee and may suddenly become more critical of her performance, resulting in increasing write-ups, performance improvement plans, the reduction of her work hours, and other disciplinary measures.
Ultimately the employer may terminate her for the write-ups and possibly even argue that she is "unhappy" at the job and should find work with a more "suitable" employer. If you feel like becoming pregnant has led to harassment at work, or if your employer appears to be in the process of preparing to terminate you because of your pregnancy, contact our office.
Pregnancy with Health Complications Requiring Accommodations
There are some cases when an employee has additional health issues that lead to complications when she becomes pregnant. She may already have a chronic condition that on its own does not constitute a disability that requires work restrictions. However, when she becomes pregnant, the condition and the pregnancy together can create medical issues that do require certain accommodations. The condition on its own may not be so debilitating that the employee feels the need to request any special accommodations from her employer. She can work a full shift and take care of any special requirements during scheduled breaks and outside of work. However, a pregnancy that places an increased demand on her system may cause her to have additional symptoms that affect her ability to perform all of the same duties of her job at the same level. Some of these symptoms may be at their worst in the morning. She may also suffer fatigue and low energy during the day due to the medical condition.
As a result of this developing medical condition paired with the pregnancy, the employee's doctor may provide a note indicating that she needs a number of accommodations from her employer, such as a later start time, and to be allowed to sit more often, which could be easily be satisfied by the provision of a stool at or near the employee's work station. When the employee gives the note to her employer, they may accept it and tell her that they will provide the required accommodations, but in practice they may actually make work more difficult for her. They may provide the accommodations at the outset, but soon thereafter they may change or even withdraw the accommodations, arguing that the accommodations are causing problems with the normal flow of business.
The employee may complain to management or Human Resources about this failure to provide accommodations as ordered by the doctor, but that may result in a campaign to find or manufacture a reason to terminate her. If she came in to work a few minutes late a couple times due to being unable to leave the house on time because of symptoms related to her medical condition, these instances of tardiness may be used against her even after she had provided her employer the doctor's note requesting a later start time because of this condition. If a past "incident" regarding cash handling or a customer complaint was "investigated," and even if the investigation turned up no fault or failure to perform on her part, the mere fact that the investigation took place may be used against her. Employees often feel they know when termination is around the corner. If you have had similar experiences, give our office a call.
Termination of Employee During Pregnancy/Disability Leave
An employee may request and be granted pregnancy leave by her employer, and as a result may feel that her position is assured when she is ready to return to work. However, during that time the employer will sometimes feel motivated to manufacture a reason to terminate her while she is on leave, especially if there are medical complications, such as the need for a cesarean section, that require an extension of the employee's pregnancy disability leave to recuperate, according to her FMLA and CFRA rights. The employer may not have even informed her of all of her rights – which they are often required to do – when she informed them that she was pregnant and would be taking leave. Many employers are either unaware or uninterested in the laws that protect an employee who merely becomes pregnant, much less an employee whose pregnancy occurs under circumstances that require longer periods of leave.
For instance, her pregnancy may be complicated by other medical problems which may require her to go on emergency pregnancy leave before the anticipated date. Or, after an employee delivers, her doctor may provide a note in the event that the pregnancy complications, lead to a need for additional time off to recuperate.
An employee may keep in regular contact with her employer during the time of her leave to update them on her status and to provide the necessary medical notes, yet the employer may later deny that she has done so, even if there is documentation of various kinds to prove it. They might also instruct her not to bother to provide them with doctors' notes extending her time off, and tell her not to worry about her position with the company, to take whatever time she needs. It may appear that they are being caring and understanding when they tell her this. What they may actually be doing is preventing the creation of a paper trail. In this manner, they may want to create a fiction that the employee is not interested in returning to work.
Finally, when the employee contacts the employer to notify them that she is ready to return to work, she may be told that her position is no longer available, that she has been replaced. They might even argue that she abandoned her position and claim that at some point in the past they called or sent a letter warning her that if she doesn't respond by a certain time, or provide a doctor's note, they will assume that she is no longer interested in working for the company. The employee never received the call or letter. If this situation is similar to yours, contact us for a free consultation.
Denial Of FMLA/CFRA/PDLL Right To Pregnancy/Disability Leave by Employer
Certain employers are obligated to notify an employee of her rights under federal and state law when she informs them that she is pregnant and anticipates going on leave. Yet many employers don't bother. Instead they tell her about their own policy. According to this policy, she is expected to work as late in her term as possible and then contact the employer immediately after delivery to make arrangements for her return. If she does not contact the employer immediately after the delivery, it will be considered abandonment of the position, and she will be terminated.
Many individual employees are not fully aware of the laws that are designed to protect employees from being fired when they get pregnant, so when an employer imposes its own policy on her, she will try to follow that policy. Even if an employee has some knowledge that she has rights when it comes to pregnancy leave, if a manager or supervisor is sufficiently aggressive to her about the company's policies restricting pregnancy leaves, she may not assert her rights out of fear that she will be terminated if she does.
An employee may contact her work short period of time after giving birth to discuss returning to work, even though she has the right to remain off of work for several more weeks. She gets medical clearance from her doctor to work with some restrictions to her duties, such as reduced lifting, bending and reaching. The manager may refuse to let her return with the restrictions, and may ultimately terminate her for job abandonment because she did not contact the employer immediately after the delivery. If you feel that your rights under the federal and state law are being or have been violated, give us a call.
Miscalculation Of FMLA/CFRA/PDLL Right To Pregnancy/Disability Leave
There may be a case when the employer agrees to provide an employee with what it understands to be her rightful leave under FMLA and CFRA. However, in the event that she suffers from serious health complications during pregnancy or child birth that lead to her need to extend her leave under PDLL, an employer might either not understand or not want to follow the law requiring it to consider her rights under the law, rights that entitle her to sufficient time to recuperate from any necessary surgery or other treatment to deal with her own medical conditions that were related to or exacerbated by her pregnancy. The employer may fail to engage in a conversation with the employee regarding her need for additional leave, and then terminate her the day she was scheduled to return to work based on the original arrangement that was made when she went on leave. For good measure, and to attempt to further protect themselves, they may add an additional argument, such as work slowdown due to a weak economy.
An employee may be on maternity leave and provide her employer a doctor's note indicating that she is suffering from a medical condition that had led to a premature delivery of the child and her own extended hospitalization. She makes multiple attempts to contact Human Resources to ask about the paperwork she would need to complete to request an extension of her leave due to her medical condition. Later, she finally receives a response that she has been terminated due to the elimination of her position, made necessary by a lack of available work. Yet when she applies for unemployment benefits, the former employer disputes her claim by arguing that she abandoned her position. Everyone's experience with termination due to pregnancy is different, but if you feel that something like this happened or is happening to you, contact our office.
Failure Or Refusal To Acknowledge Pregnancy by Employer
In some cases and employee will notify her supervisor or manager that she recently discovered that she is pregnant. In response the manager may brush off her statement, acting like they are not interested or don't want to hear about it. The manager may even ignore the information or pretend to forget about it.
In such cases is possible that the employer is attempting to conceal its receipt of notification about her pregnancy and could be preparing to terminate her right away before they receive any further information about it. The employer may notify her that she is terminated a few days after she informed them about being pregnant. They may give as a reason the elimination of her position, or a write-up from four months ago for clocking in a few minutes late, or some other small issue that was not taken seriously at the time by management. This kind of pregnancy-related termination likely will take place quickly, as an employer may feel that it has to move quickly to hide the fact that the employee was fired because she became pregnant to avoid having to deal with the requirements that comes with having pregnant employee. They may think they can argue lack of knowledge about her condition if the information came by a verbal statement or a single email that can be deleted. If you find yourself in this kind of situation, give our office a call.
Contact Us
If you have been wrongfully terminated at a workplace due to your pregnancy or motherhood, be sure to contact the leading attorneys dealing with wrongful termination due to pregnancy at Kokozian Law Firm, APC. 323-857-5900. Ask about our free initial consultation.