Wrongful Termination Due To Physical Disability
Employment Attorneys Serving Los Angeles and Surrounding Areas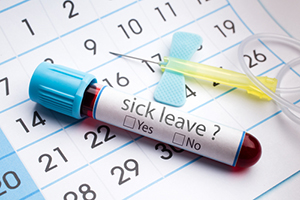 In the workplace, you expect to be treated fairly, according to your work performance rather than according to factors outside your control that pertain to your identity. You should not be terminated because of a physical disability or because you asked for an accommodation for your disability. California law provides strong protections against disability discrimination in the workplace. If you suspect that you received a wrongful termination due to a physical disability, you should consult the best Los Angeles wrongful termination lawyer at the Kokozian Law Firm. Call or contact us to see if we can help you.
Wrongful Termination due to a Physical Disability
Employees in California are usually "at will." This means that your employer does not need a sound reason to terminate you, and you can leave at any time. However, there are exceptions. Your employer cannot violate your contract, a statute, or public policy in terminating you. The Fair Employment and Housing Act (FEHA) is California's anti-discrimination law, and if you are terminated in violation of FEHA, you may be able to bring a wrongful termination lawsuit.
FEHA covers employers with at least five employees. Among other protected characteristics, FEHA prohibits discrimination based on a disability. Discrimination can include any adverse employment action, including failure to hire, demotion, or termination.
Physical Disabilities
A physical disability is a term defined broadly under FEHA. It includes any anatomical loss, condition, physiological disease, cosmetic disfigurement, or disorder that affects one or more bodily systems and restricts a major life activity. Bodily systems that may be affected when there is a physical disability include the neurological, musculoskeletal, immunological, respiratory, cardiovascular, genitourinary, digestive, reproductive, skin, endocrine, hemic, and lymphatic systems, as well as special sense organs and speech organs. You are protected if you have an actual physical disability or if you have a perceived disability, which means that an employer believes that you have a physical disability. Under FEHA, you are also protected if you have a history of a physical disability of which the employer knows.
A court is supposed to interpret "major life activity" expansively to include not only effects on work but also effects on social, mental, and physical activities. Many physical disabilities count for the purposes of FEHA. For example, a court would likely find a wrongful termination if your employer terminated you because you disclosed that you have lupus to get a reasonable accommodation. For another example, if you are terminated from a customer-facing position because you suffered an injury that requires you to use a wheelchair, and your employer believes that your disability will make customers uncomfortable, you can likely bring a lawsuit for wrongful termination. However, certain disorders do not count as disabilities, including substance abuse disorders arising out of the illegal use of drugs or other controlled substances.
Damages
If your attorney can establish liability for your wrongful termination, you may be able to recover a wide range of damages. These can include front pay, back pay with interest, benefits, pension benefits, missed bonuses, and emotional distress damages. It may be possible to obtain reinstatement in a job that was lost due to discrimination. However, as a practical matter, sometimes the relationship between the employer and the employee has broken down too much for reinstatement to be successful. In situations in which reinstatement is appropriate, the court may order the employer to provide you with a reasonable accommodation for your disability. If an employer's conduct in terminating you was egregious, it may be proper to request punitive damages.
Federal Law
The Americans with Disabilities Act (ADA) also prohibits wrongful termination due to a physical disability. However, only employers with at least 15 employees are covered by the ADA. Additionally, the ADA has a more restrictive definition of major life activities. There must be a substantial limitation on a major life activity for a court to find a physical disability. In many cases, it is wiser to proceed with a lawsuit under FEHA.
Consult a Dedicated Los Angeles Lawyer
It is illegal for your employer to terminate your employment because you have a physical disability. If you believe that you received a wrongful termination due to a disability, you should consult the experienced attorneys at the Kokozian Law Firm. We represent people throughout California and the Los Angeles area. Call us at 323.857.5900 or contact us via our online form.