Welcome to

Kokozian Law Firm, APC

DEDICATED TO PROTECTING EMPLOYEE RIGHTS.

Kokozian Law Firm, APC is a law firm dedicated to protecting the rights of all employees. If your employer has discriminated against you, failed to pay you the wages you are owed, failed to provide you with CFRA/FMLA leaves or medical leave, retaliated against you for exercising rights you have under the law, or if any employee or employer has harassed you or wrongfully terminated you from your job, then you are entitled to justice under the law. Call us at 323-857-5900 for a FREE initial consultation. You have RIGHTS and Kokozian Law Firm, APC will fight for them.

WHEN TO CONTACT US

At Kokozian Law Firm, we are experienced and skilled at handling cases against employers for:

If you have suffered mistreatment at your workplace, then call Kokozian Law Firm, APC. At Kokozian Law Firm, APC, we will fight for your rights. We have recovered Millions of Dollars for employees in actions against employers for violations of California and Federal law. We also advance all costs on your behalf. Call us now at 323-857-5900 or use our contact form for a free initial consultation. We will personally handle your case, and everything will be kept completely confidential. If there is no recovery, then no fee.

THE GOALS OF OUR FIRM

Our goal is to reach a successful conclusion of our client's claim as efficiently as possible with maximum results. We have been litigating employment law and fighting for worker justice in California for over a decade. Mr. Kokozian, our lead attorney, and the Kokozian Law Firm, APC are fully equipped to pursue your case from beginning to end and obtain the best possible outcome.

Do not hesitate to call Kokozian Law Firm, APC for a free consultation. Call us today at (323) 857-5900. Se habla español. We advance all costs. No recovery, no fee.

OUR JURISDICTIONS AND LOCATION

We are licensed to practice law in the Local California courts, California Supreme Court, Local Federal courts, and The Supreme Court of the United States of America. Our offices are conveniently located on Wilshire Boulevard on the eastern border of Beverly Hills, California, between La Cienega and Fairfax Boulevards.
No Recovery
No Fee
"Bruce Kokozian is the best lawyer in town! From the beginning, he was straightforward and honest with me about my case. He was sympathetic of my situation and fought aggressively for my rights. I understood all the details of the case, and was supported by the extremely nice and helpful staff. Overall, I am extremely happy with Bruce's ability to settle my case. I love Kokozian Law Firm for getting me everything I deserved out of my case, and for allowing me to get back on my feet and move forward!" – Mary M.
"My attorney Mr. Kokozian was very aggressive in pursuing my disability discrimination case. The case went to arbitration, and I was awarded $287,734. Mr. Kokozian fought hard for me. Give Kokozian Law Firm, APC a call and let them work hard for you." – Ms. Maria Vega
"During my employment I was diagnosed with an illness that required accommodations for me to continue at work. Management did not accommodate my needs. Instead, my employer terminated my employment. Mr. Kokozian filed a lawsuit for me and obtained a significant settlement for me. I highly recommend that anyone who has been treated unfairly by their employer give Kokozian Law Firm, APC a call." – Richard N.
Lead Attorney Bruce Kokozian EXPERIENCED TRIAL LAWYER ADMITTED TO U.S. SUPREME COURT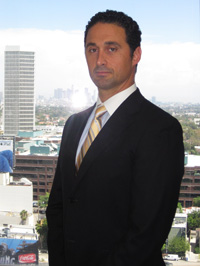 Se Habla Español
Call Now: (323) 857-5900
Member Of

Los Angeles County
Bar Association
California
Employment
Lawyers Association


Consumer
Attorneys Association
of Los Angeles

Consumer
Attorneys
of California

Selected
as
Super Lawyer