Physical Disability Harassment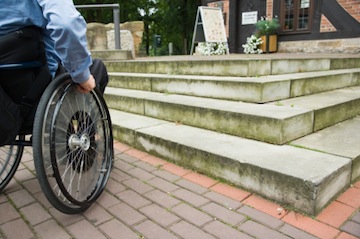 California Fair Employment and Housing Act (FEHA): It is an unlawful employment practice for an employer (or any other person) to harass employees or applicants because of their medical condition, physical disability, or mental disability. Cal Gov. Code §12940(j)(1).
Additionally, employers are required to take "all reasonable steps to prevent harassment from occurring." Cal. Gov. Code §12940(j)(1).
Americans with Disabilities Act (ADA): To establish a claim of disability harassment, the plaintiff must show:
He or she [is disabled],
He or she was subjected to unwelcome harassment,
The harassment affected a term, condition, or privilege of employment, and
The employer knew or should have known of the harassment and failed to take prompt, remedial action. Flowers v. Southern Regional Physician Services, Inc. 247 F3d 235-36.
Harassment is normally a separate cause of action from discrimination. However, harassment is actionable as "discrimination" if it is "so severe or pervasive as to alter the conditions of [the victim's] employment and create an abusive working environment." Clark County School Dist. v. Breeden, (2001) 532 US 268, 270.
Employers are strictly liable for harassment by the plaintiff's direct supervisor carried out in the scope of his or her duties. However, for coworkers, the employer is only liable if it knew or should have known of the ongoing harassment and then failed to take immediate corrective action. Cal Gov. Code §12940(j)(1).
Under FEHA physical disabilities, mental disabilities, and mental conditions are defined broadly and include both actual disabilities and conditions, and situations where an employer perceives that an employee has a disability or condition. Cal. Gov. Code § 12926.1(b).
Physical Disability:
A physical disability is "[a]ny physiological disease, disorder, condition, cosmetic disfigurement, or anatomical loss that does both of the following:
affects one or more of neurological, immunological, musculoskeletal, special sense organs, respiratory, speech organs, cardiovascular, reproductive, digestive, genitourinary, hemic and lymphatic, skin, and endocrine, and
limits a major life activity.
If it makes achievement of a major life activity difficult then it is a limit on a major life activity. "Major life activity" is broadly construed and includes physical, mental, and social activities as well as working.
Physical disability "does not include sexual behavior disorders, compulsive gambling, kleptomania, pyromania, or psychoactive substance use disorders resulting from the current unlawful use of controlled substances or other drugs." Cal. Gov. Code § 12926. It also includes but is not limited to:
Back conditions,
Wrist Injuries,
Hypertension and high blood pressure,
Hypersensitivity to Tobacco,
Obesity,
Injury to: Shoulder, Eye, Foot, Wrist, Jaw, Neck, Leg, Hip, Ankle, Hand,
Severe migraine headaches,
Severe pain,
Injuries that require surgery such as head surgery, eye surgery, shoulder surgery, back surgery, neck surgery, foot surgery, hand surgery, hysterectomy,
Diabetes,
Cystic fibrosis,
Arthritis,
Ulcer,
Lymphoma,
Emphysema,
Sickle Cell Anemia,
Polycystic kidney,
Tuberculous sclerosis,
Asthma,
Huntington Disease,
Spinal muscular atrophy,
Lung carcinoma,
Osteoporosis,
Heart Disease,
Parkinson Disease,
Bidactyly,
Inculinoma,
Fibromyalgia
Scoliosis
Histiocytosis
HIV
Blindness
Deafness
Allergies
Paralysis
Crohn's Disease
Brain seizures
Color blindness
Cholera
Contact Us
If you are experiencing harassment due to a disability, contact the prominent disability harassment attorneys at Kokozian Law Firm, APC. 323-857-5900. Ask about our free initial consultation.