Administrative Duties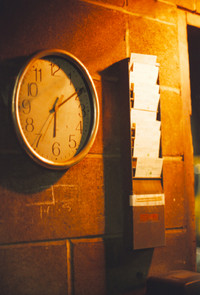 These duties apply to any employee:
Whose duties and responsibilities involve either:

The performance of office or nonmanual work directly related to management policies or general business operations of the employer or the employer's customers; or
The performance of functions in the administration of a school system, or educational establishment or institution, or of a department or subdivision of those, in work directly related to the academic instruction or training carried on in the system, establishment, or institution;

Who customarily and regularly exercises discretion and independent judgment:
Who:

Regularly and directly assists a proprietor or employee employed in a bona fide executive or administrative capacity;
Performs specialized or technical work requiring special training, experience, or knowledge, under only general supervision; or
Executes special assignments and tasks under only general supervision; and

Who is primarily engaged in duties that meet the test of the exemption. 8 Cal Code Regs §11010(1)(A)(2).
The primary inquiry when trying to determine if an employee has administrative duties is whether the employee primarily manages or operates the business or whether the employee performs specific assignments not related to making decisions. An employee with administrative duties must be somehow involved with actually running the business. If the employee does not make any decisions and only performs a specific task, such as working a station on an assembly line, then the employee likely will not qualify for the administrative exemption.
While this test for determining whether a worker is an "administrative" employee can be difficult to digest at first, there are many examples towards which one could look for some illustrations. For instance, employees that would likely qualify include the following:
Employees who work in a staff capacity, such as a human resources director or purchasing agent.
Executive or administrative assistants (such as an executive assistant to the president), an executive secretary, or an assistant buyer if they are afforded authority to make significant decisions in the absence of specific instructions.
Employees who perform special assignments.
For more illustration, below are some examples of occupations and circumstances that did not qualify for the administrative exemption:
Senior consultant (Eicher v. Advanced Business Integrators, 151 Cal.App.4th 1363, (2007) (engaged in day-to-day production aspects of the company rather than in administrative capacities).
IT support specialist (Wage-Hour Opinion Letter No. FLSA 2006-42 (Oct. 26, 2006))
Insurance Claim Adjuster (Robinson-Smith v. Government Employees Insurance Co., 323 F. Supp. 2d 12 (D.C. 2004), Bell v. Farmers Ins. Exch., (2001) 87 CA4th 805, 105 CR2d 59) (insurance claim representatives spent most of their time functioning as production agents rather than as administrative agents)
Automobile Damage Appraisers (Reich v. American Intern. Adjustment Co., Inc. 902 F.Supp. 321 (D. Conn. 1994))
Inside Salespersons (see Martin v. Cooper Electric Supply Co., 940 F.2d 896 (3d Cir. 1991))
Probation Officers (Bratt v. County of Los Angeles, 912 F.2d 1066 (9th Cir. 1990) (court held not exempt since their activities were not directly related to management policies or general business operations; they could not properly be compared with stock brokers and insurance claims agents, who may qualify)
Television station's directors, assignment editors, and producers (Dalheim v. KDFW-TV, 918 F.2d 1220 (5th Cir. 1990))
Police officer engaged in investigation of major crimes (Wage-Hour Opinion Letter No. 1583, C.C.H. 31,507, (1988)
Legal assistants (Wage-Hour Opinion Letter No. 1899, C.C.H. 32,728, (1998)
Paralegals (Wage-Hour Opinion Letter No. 1739, C.C.H. 32,434, (1995) (paralegal engaged in production work assigned by an attorney and paid a salary of $30,000 a year did not qualify for the administrative exemption because the employee applied only skill and knowledge rather than independent judgment in preparing assignments)
Even with all of these examples, the administrative exemption may still be nebulous. In fact, of the three open categories of duties that are exempt from overtime regulations (executive, administrative, and professional), administrative leads to the most litigation, because some of the duties and responsibilities associated with it pertain to many jobs.
"Highly compensated employees" are also exempt if they earn $107,432 or more per year and frequently perform an administrative duty. 29 CFR §541.601.
The classification of a worker is not determined by title but instead is determined by both salary and duties. Thus, it is irrelevant if a nonexempt employee agrees to work overtime without additional compensation; additional compensation would be required by California law.
Contact Us
If you and other employees have not been granted proper overtime wages, or if you have been denied rest periods or meal breaks or have been compelled to work during them, contact the top attorneys on the west coast for overtime compensation and rest or meal breaks at Kokozian Law Firm, APC. 323-857-5900. Ask about our free initial consultation.